Sunday Mornings
Worship Service (In-Person and Online Livestream)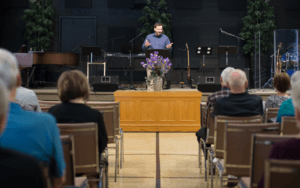 We meet in person and online on Sunday mornings at 10:15 AM. Our worship gathering lasts approximately 75 minutes, and you can expect music, prayer and teaching from the Bible. All ages are welcome, and children are encouraged to participate with their families.
Planning a Visit?
When you arrive, you will be greeted at the door and invited to grab a cup of coffee or tea and enter our auditorium, where we gather for worship. Whether you wear a mask or not, you will be welcome.
Partway through the worship service, children from preschool through Grade 8* will be invited to BLAST (Bible Learning And Spiritual Training). BLAST is a separate teaching time geared to children at their age and stage of development. We also offer care for infants and toddlers in the nursery and preschool rooms starting at 10 AM. These rooms are near our main auditorium and are available for parents throughout the worship service.
*On certain weeks, youth in Grades 6 through 8 are given the opportunity to help with the younger ones during BLAST or remain in the auditorium to participate in the worship service.
Are you new here? Take a moment to say hello—we'd love to meet you! Or, check out the weekly event calendar to find ways to get involved here at Glencairn Church.
Glencairn Church is located at 725 Erinbrook Drive in Kitchener and can be reached by bus routes #3 Ottawa, #12 Fairview, or #201 Conestoga. The church is a 15-minute walk from the Forest Glen Plaza by Block Line Road and Strasburg Road.
View on Google Maps